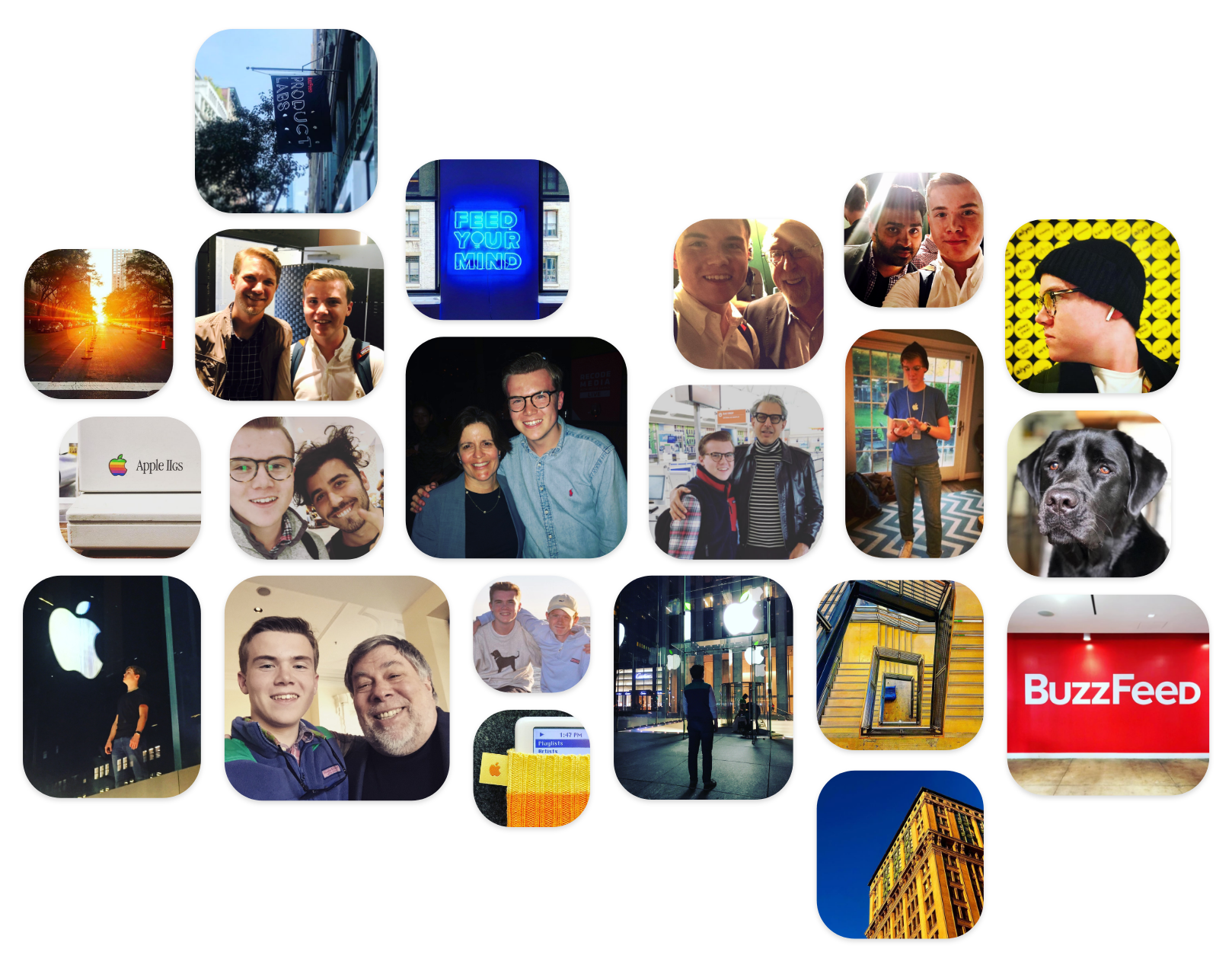 I'm a digital strategist and human interface designer based in New York. After a year of interning with BuzzFeed Product Labs and the social media crew, I joined the licensing team at Buzzfeed Commerce. BuzzFeed Commerce is focused on new product development, licensing, affiliate commerce, and more. While at BuzzFeed, I've gotten the opportunity to work with a wide variety of brands like Tasty, several new products like Social Sabotage, and on stores like Shop BuzzFeed and Homesick.
During my free time I try to keep up a small blog, Inside the Park, an Apple focused Medium publication. Over there I share my feelings on things happening in the Apple community as well as the broader tech community. 
I have written a few opinion pieces for The Fordham Ram and am an active member of the Fordham College Democrats. I also currently sit on the Sexual Misconduct Committee for United Student Government and work to help educate the community about sexual assault, harassment, and healthier relationships.
Licensing, BuzzFeed • April 2018 - Current
Following my time as commerce intern working with our social media and design teams, I joined our spectacular licensing crew. In April I began working for the head of licensing to assist with growing our great brands. I'm fascinated by licensing and how it is used to grow brands into iconic global powerhouses.
Commerce Intern, BuzzFeed • December 2017 - April 2018
As part of the newly formed BuzzFeed Commerce group, I work with our heads of social media and marketing to help promote our products. Additionally, I assist other brands within the BuzzFeed Commerce family in a variety of ways. I've been involved in many projects, including but not limited to: Tasty Kitchenware, Tasty One Top, Social Sabotage, Shop BuzzFeed, As/Is, Fck Sht Shop, Glamspin, Wordy Wine, Mural Kit, Lego Duplo Brick Names and several upcoming products.
Product Labs Intern, BuzzFeed • 
May 2017 - December 2017
At BuzzFeed Product Labs, I was responsible for photographing and sharing new products, helping manage our online shops, participating in new product development and brainstorming, assisting upcoming and current BuzzFeed brands, merchandise inventory for Shop BuzzFeed and Fuck Shit Shop, affiliate commerce, and more. Additionally, I worked my first trade show, New York Now, in late August. I have also worked closely with our design team on current and upcoming product marketing materials.
Media and Design Intern, 
Pointman LLC • June 2016 - August 2016 
I was responsible for designing landing pages, social media graphics, icons and more. The culmination of my work there resulted in me getting the opportunity to completely redesign their online help center.
User Experience Intern, Helm Experience & Design • June 2015 - August 2015
While at Helm I had the opportunity to work on various projects, sit in on meetings with potential clients, experience Buffalo's startup community from the inside, all while gaining lots of user interface design experience.
Nichols School  |  2012 - 2016
• Earned the Entrepreneurial Studies Award
• Member of the Nichols School Leadership Symposium
• Freshman Representative for Nichols Student Council
• Co-Founder of Nichols News
• Oarsman for Varsity Crew
• Actor in Nichols Products of:
• Alice in Wonderland, The Buffalo Myth Project, and Our Town
Fordham University  |  2016 - Graduating 2020
• Majoring in Digital Technologies & Emerging Media
• Minoring in New Media & Digital Design
• Opinion Writer for The Fordham Ram
• Member of the Fordham College Democrats
• Member of the Sexual Misconduct Committee in United Student Government
Graphic design, print design, web design, user interface design, user experience design, branding, social media marketing, product development, Spanish, Adobe Creative Cloud, Microsoft Office, all Apple software, Android, Windows, Shopify, Ship Station, etc.
Apple, Nintendo, technology, podcasts, writing, fashion, pop culture, architecture, journalism, art, design, politics, apps, gadgets, marketing, news, media, intellectual property law, and more.